Rohan Educational Solutions is an innovative company that has made significant contributions to the educational universities. With our strong expertise and dedication, we have become pioneers in providing comprehensive solutions in various verticals of Fiber Optics, Telecommunication, Electronics. Our portfolio encompasses a wide range of cutting-edge products and services that cater to the ever-evolving needs of the educational domains.
Recognizing the importance of skill requirements in industrial Domain, we have expanded our portfolio to include offerings in the educational domain. We are committed to transforming the learning experience through technology-driven solutions. By leveraging our expertise in both telecommunications and education, we create integrated solutions that empower educational institutions to enhance their teaching methodologies and embrace Skill development and bridging the gap between the industry and Educational Institutions.
At Rohan Educational Solutions, we constantly strive to stay ahead of the curve, adapting to the ever-changing industry landscape. Our team of experts works closely with clients to understand their unique requirements and deliver tailored solutions that drive success. We are passionate about enabling seamless communication and fostering innovative learning environments.
Partner with us to experience the power of comprehensive telecommunications and educational solutions. Together, we can shape the future of connectivity and education.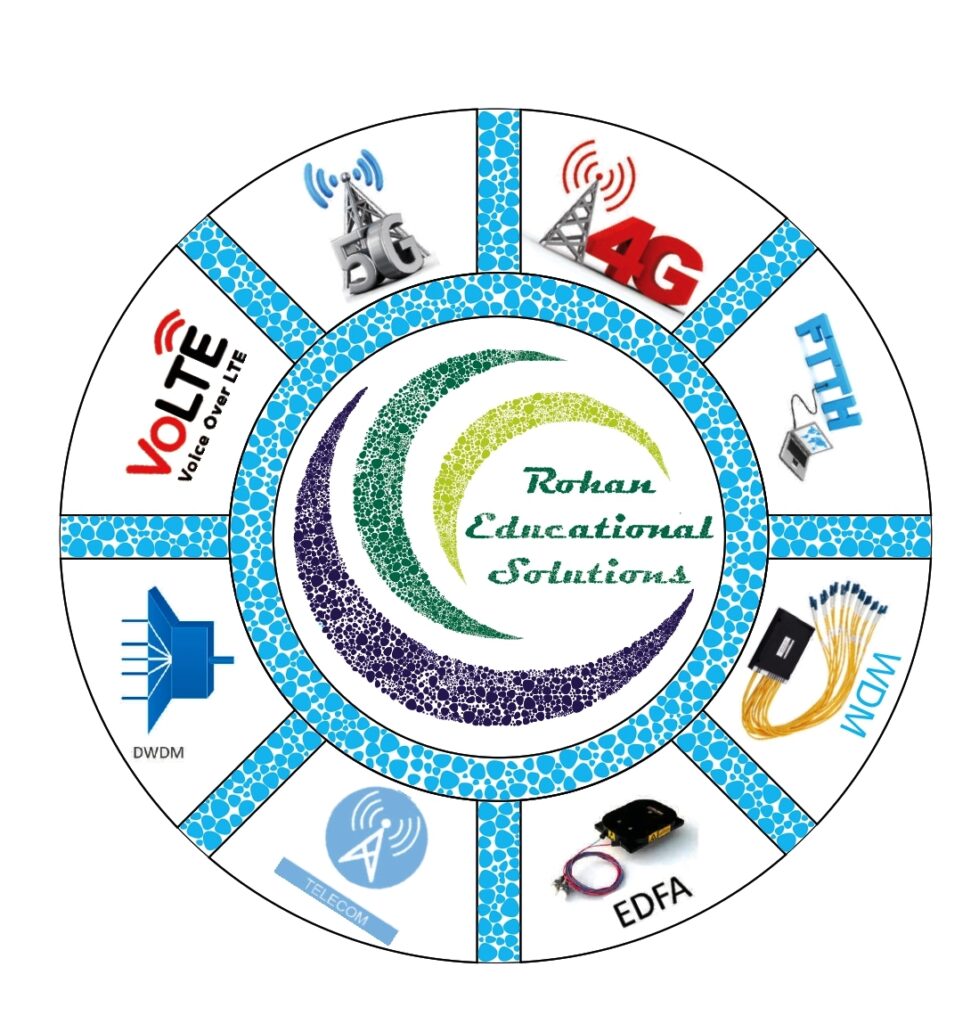 Rohan Educational Solutionshas emerged as a pioneering force in the field of Fiber Optics, particularly in providing Fiber Optic Lab Solutions to esteemed universities in India and abroad. We understand the importance of bridging the gap between industries and academics, and our range of Fiber Optic Lab Products is designed to facilitate this connection.
Rohan Educational Solutions leverages cutting-edge technologies to offer a comprehensive lineup of products that cater to the specific needs of fiber optics laboratories. Our portfolio includes advanced equipment such as Erbium-Doped Fiber Amplifiers (EDFA), Optical Time Domain Reflectometers (OTDR), Wavelength Division Multiplexing (WDM) systems, optical sensors, and Optical Add Drop Multiplexers (OADM).
By supplying these sophisticated tools, Rohan Educational Solutions equips universities with state-of-the-art resources to enhance their fiber optic research and development capabilities. Our products not only enable hands-on learning experiences but also empower students to explore the potential of fiber optics and drive innovation in the field.
We understand that academic institutions require reliable, high-quality equipment to foster meaningful research and practical understanding. Therefore, Rohan Educational Solutions places great emphasis on manufacturing products that meet rigorous standards of performance and durability. Our Fiber Optic Lab Solutions are meticulously designed, leveraging the latest advancements in the industry to ensure accuracy, precision, and reliability.
Our commitment extends beyond the products themselves. Rohan Educational Solutions takes pride in providing comprehensive customer support, technical assistance, and training to ensure that universities can effectively utilize our Fiber Optic Lab Solutions. We strive to nurture long-term partnerships with our clients, supporting their academic pursuits and contributing to the advancement of fiber optics knowledge.
Choose Rohan Educational Solutions as your trusted partner in the realm of Fiber Optic Lab Solutions and witness the transformative impact our products can have on the academic landscape. Together, let's push the boundaries of fiber optics and pave the way for technological advancements in the industry.
Rohan Educational Solutions stands out as a leading player in the Telecom industry, offering a comprehensive range of products and services. As a prominent Manufacturer, Trader, Exporter, Supplier, and Wholesaler/Distributor, Rohan Educational Solutions takes pride in delivering top-notch Telecom Domain Products to meet the diverse needs of customers.
Our extensive catalog boasts an array of high-quality Telecommunication Products that cater to various requirements. Whether it's Splicing Machines, OTDRs, Joint Closures, Fiber Optic Cables, optical Patch Cords, Routers, OLTs, ONTs, SFPs, Switches, Digital Meters, PLC Splitters, Optical Laser Sources, Power Meters, or many more, We prioritize maintaining the utmost quality across our product range and strive to provide unparalleled service to all our valued customers.
In addition to offering a wide range of telecom products, we also provide valuable expertise and guidance to assist customers in making informed decisions. Our team of professionals is always ready to offer technical support, industry insights, and tailored recommendations to meet specific requirements.
By choosing Rohan Educational Solutions as your trusted partner in the Telecom domain, you can expect not only top-quality products but also a seamless and satisfying experience. We prioritize customer satisfaction and go the extra mile to ensure that our clients receive the highest level of service, timely deliveries, and personalized attention.